Excursions to the beach one hour from Seville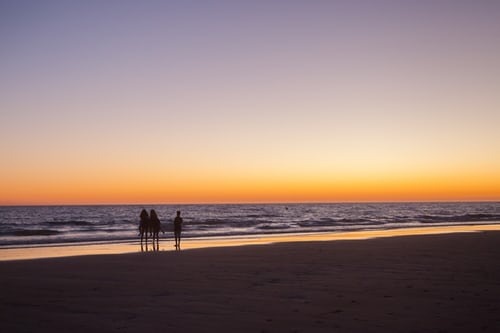 At
Patio Hoteles
we know that summer is here to enjoy it to the fullest. One of the most famous claims during these months are the beaches. Despite the fact that the Spanish capital does not have a beach, from our
tourist apartments
in the center of Seville it is very easy to get to the coast.
That is why we want to tell you about the closest beaches to the city. So that you can take an excursion that allows you to take a very refreshing bath on days of intense heat. Near the capital there are a multitude of beaches that invite you to spend a most fun day with family and friends. Are you going to miss it?
Beaches of Huelva
They are one of the options most demanded by Seville. It highlights the proximity and the good connection that there is with the place. They are clear sandy beaches and wide enough to be as calm as possible with whomever you decide.
Matalascañas is one of the most famous. It has a beautiful sandy area that maintains shallow waters where you can take a bath and enjoy the day. It also has a large number of restaurants where you can enjoy quality fish and seafood. One of the points to take into account is its proximity to Doñana which makes it surrounded by nature. Ideal for family tourism and enjoy the tranquility.
You can also go to beaches like Isla de Antilla, La Antilla or Mazagón. All are characterized by having spaciousness, clear and fine sand and little wind. They tend to have more crowds during the weekends, so if you want to ensure tranquility, choose to go one day during the week to avoid traffic jams.
Cádiz Beaches
Cádiz is a dream place for those who want to spend a quiet day in a heavenly setting. Within an hour we find the beaches of Sanlúcar de Barrameda, El Puerto de Santa María or Chipiona. Chipiona should be highlighted as the destination chosen by a large number of Sevillanos. It is very popular, with the tallest lighthouse in Spain. It is the closest beach in Cádiz to our tourist apartments in the center of Seville.
A little further away we find the beaches of Chiclana and Conil. Also noteworthy are the Canos de Meca, Zahara de los Atunes, Tarifa or Barbate. All of them destinations where you can eat well while enjoying the most natural and relaxed environment. Some like Bolonia are beaches that will help you reconnect with nature in an unspoilt setting.
Inland Beaches
A different option is to take advantage of the improvised beaches created in rivers and swamps. Some of them are very famous in the area. In Los Lagos del Serrano in Guillena or San Nicolás del Puerto you will find areas that are really equipped for bathing. They are a most curious option if you want to spend a day between clean and warm waters. This supposes a greater proximity with the city and a completely different experience. Take advantage of all the options that the good location of Seville offers you to visit some of the most famous beaches in all of Spain. Not only can you spend a day refreshing yourself in the company of friends or family, you can also enjoy the best cuisine in the area and visit some of the areas with the greatest historical and natural wealth that you can find.
You can complete the day at the beach doing one of the multiple routes offered by these areas or practicing some water sport. Everything you need to make your vacation ideal is in Andalusia.
Comments