Plaza España in Seville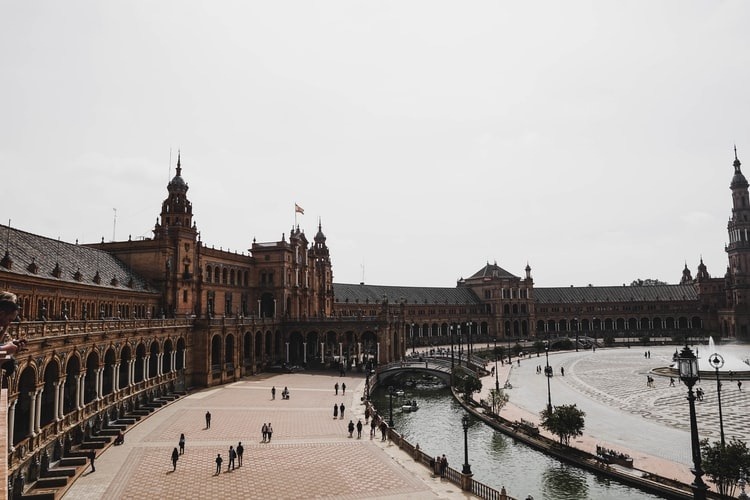 If you visit the city of Seville you cannot miss the Plaza de España. It is one of the most fascinating and recommended locations for all those who visit our
tourist apartments in Seville
. Built in 1929 for the Ibero-American Exposition, this place has a charm that has made more and more people from all over the world fall in love.
If you walk through the place you will see the great amount of details that it has, being the work of the Sevillian architect Aníbal González. This palace-square has elements that make it unique throughout the globe. It has 50,000 meters of surface, being one of the most outstanding in the entire country. Along the perimeter of the square you can find a channel 515 meters long. You can visit it aboard a boat, being the highlight.
You will find that from one end to the other you can see different tiles representing the provinces of Spain. This makes most of the Spanish visitors who visit the area decide to look for their place of origin to be able to photograph themselves with it.
It has served as a stage for many events. Also falling in love with a multitude of film directors who found in it the ideal place to shoot their films such as Lawrence of Arabia or Star Wars: Attack of the Clones. The four bridges represent the old Spanish kingdoms. Having two high towers that are at the ends of the square. This makes it perfectly balanced.
One of the curiosities to keep in mind is that its shape gives rise to a hug between the ancient metropolis and its colonies. In addition, the building that surrounds it is oriented towards the Guadalquivir, being the place from where the trip to America began.
But if you do the complete tour you will see how there are fewer banks than they should. Of all the Spanish provinces there are only 48 of them. This fact is due to the fact that until 1927 the Canary Islands were not divided into Gran Canaria and Tenerife. As well as you will not be able to find Seville, which is represented in different murals of the square. In addition, all the provinces are arranged in alphabetical order. But, if you look, Navarra breaks it completely. This is due to the fact that at first the tile found on it represented The Death of García IV, but it ended up being removed because it was too violent. When changing it, it also changed its name to Pamplona instead of Navarra, thus breaking the alphabetical order.
What was originally going to be a building destined to house the Labor University of Seville ended up being occupied by different official organisms. So currently inside you can see the Andalusian Government Delegation and the Guadalquivir Hydrographic Confederation. In the plaza 48 illustrious Spanish history are represented in the upper part. Among those who are in the place we can see Quevedo or Velázquez. This made even Alfonso XIII himself marvel at the place when he first saw it.
From
Patio Hotels
we invite you to discover a most fascinating location. From our tourist apartments in Seville you can get to the place thanks to the excellent connection to urban transport. Take advantage of the visit to the Plaza de España in Seville for a walk in the María Luisa Park. Thus you will discover a large number of the most beautiful areas. Discover one of the green lungs that the city has while enjoying a most pleasant moment
Comments